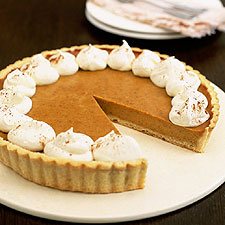 Peter won't be the only pumpkin eater when you serve up this decadent dessert. Even more tantalizing is the fact it's low-fat.
Ingredients
1 (15 oz.) can solid pack pumpkin
1 (14 oz.) can fat free sweetened condensed milk
1/2 cup egg substitute
1/2 tsp. salt
1/2 tsp. ground cinnamon
1/2 tsp. ground nutmeg
1/2 tsp. ground ginger
1 (9 inch) unbaked pastry shell
Methods/steps
In a large mixing bowl, combine the first seven ingredients; beat just until smooth. Pour into pastry shell. Bake at 425 degrees for 15 minutes. Reduce heat to 350 degrees; bake 25-30 minutes longer or until a knife inserted near the center comes out clean. Cool on a wire rack. Store in the refrigerator.