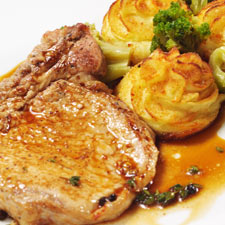 This great-tasting Greek offering is chock full of those popular staples like tomatoes, feta cheese and Kalamata olives. Go Greek tonight.
Ingredients
4 lb. boneless pork loin roast
3 tbsp. olive oil
1 cup chicken broth
4 cloves garlic, minced
2 tsp. dried oregano
1 tsp. salt
1/2 tsp. ground black pepper
1/2 cup chopped fresh tomatoes
1/2 cup chopped Kalamata olives
1/2 cup feta cheese, crumbled


Methods/steps
Trim the excess fat from pork. Heat oil in a 10 or 11-inch skillet over medium-high heat. Cook pork 8 to 10 minutes, turning every two minutes until brown on all sides; place pork in a 12 to 6 quart slow cooker and put broth, garlic, oregano, salt pepper on top. Cover cooker and set to "low" heat setting for 7 to 9 hours or until pork is tender. Remove pork from cooker and place on a serving platter. Spoon tomatoes, olives and feta on top of pork and serve immediately.
Additional Tips
Ready in 10 hours