Happy Thanksgiving, my friends :)
Heart Healthy Mushroom & Herbs Stuffing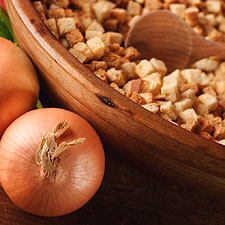 All stuffing is not created equal, especially this gourmet mushroom and herb stuffing. This is a tasty, tempting treat of a side dish.
Ingredients
Vegetable oil spray
1 tbsp. butter, unsalted
1/4 cup chopped onions
1 cup chopped fresh mushrooms
2 cups bread crumbs
1/2 tsp. thyme
1/2 tsp. basil
1/4 tsp. freshly ground black pepper
1/4 cup low-sodium chicken broth


Methods/steps
Preheat oven to 350 degrees. Lightly spray a 1 1/2-quart casserole with vegetable oil spray. Melt butter in a non-stick skillet over medium heat. Add onions and mushrooms and sauté about 5 minutes, or until soft. In a medium bowl, combine onion-mushroom mixture, breadcrumbs, thyme, basil and black pepper. Add chicken broth and mix well. Place in prepared casserole and bake uncovered 30 minutes.
Additional Tips
Ready in 45 min