Fruit & Cream French Toast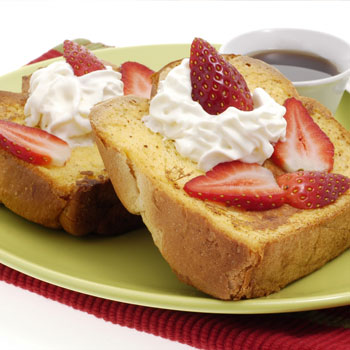 Created by
The MDM Team
, Tuesday, 19 February 2008
Simple, gorgeous and flavorful! You can use fresh blueberries, blackberries or raspberries instead of strawberries. Regardless of which fruit you choose, it's absolutely delicious.
Ingredients
Nonstick cooking spray

3 eggs

1 tbsp. milk

2 tsp. cinnamon

1 dash vanilla extract

1 dash fresh nutmeg

8 slices white bread or whole wheat bread

1 pint fresh strawberries

Whipped cream
Methods/steps
Spray the inside of each cup of a 6-cup muffin tin with nonstick cooking spray and set aside.
In a medium-size mixing bowl, whisk together the eggs, milk, cinnamon, vanilla and nutmeg. Cut a slit in the corner of each slice of bread from the middle of the slice to the edge.
Dip each slice of bread in the egg mixture then lightly press it into a cup of the muffin tin, overlapping the pieces where you cut the slit to make it fit into the cup without tearing.
Bake the French toast cups for 12-14 minutes, until they're light golden brown.
Allow the cups to cool slightly in the muffin tin before removing them. To serve, arrange the cups on a platter and fill each one with fresh fruit and top with whipped cream.
Additional Tips
Ready in 15 min