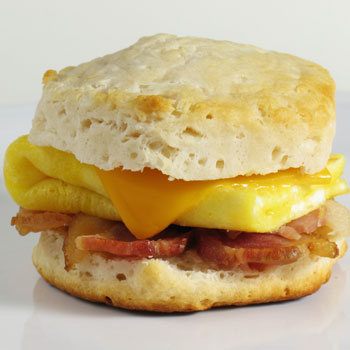 Turn your biscuits into a special breakfast sandwich; add green chilies, bacon, jalapenos, onions, eggs, and Jack cheese and why not, add some spice!
Ingredients
1 (10 oz) container refrigerated extra large biscuit dough
1/2 lb. sliced bacon
3 tbsp. olive oil
1/2 medium onion, chopped
1 jalapeno pepper, seeded and chopped
4 roasted green chili peppers, seeded and chopped
1 tsp. salt
1 tsp. pepper
6 eggs
1/2-cup milk
1 cup shredded Monterey Jack cheese
Methods/steps
Prepare biscuits according to the directions on the package. Place bacon in a large, deep skillet. Cook over medium-high heat until evenly brown. Drain, and set aside.
Heat olive oil in a large skillet over medium heat. Add onion, jalapeno, green chili, salt, and pepper. Fry, stirring, until onions are soft. Whisk together the eggs and milk; pour into the skillet. Stir frequently until eggs are scrambled and cooked through.
Split biscuits in half. Place some of the scrambled egg mixture on the bottom half, criss-cross two slices of bacon over the eggs, then top with shredded Monterey Jack cheese. Place the other half of the biscuits on the top, and serve.
Additional Tips
PREP TIME 30 Min
COOK TIME 15 Min
READY IN 45 Min