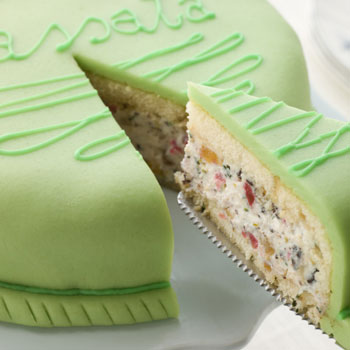 Created by
The MDM Team
, Friday, 22 February 2008
Cassata is a spongy cake filled with a creamy and sweet ricotta cheese! This recipe requires a bit of skill in the culinary department, but feel free to try it if you're up for a challenge.
Ingredients
1/2 cup white sugar
1 1/2 tbsp. lemon juice
1 1/2 tbsp. orange zest
2 tbsp. sherry
1 cup cake flour
1/2 tsp. salt
1 1/2 lb. ricotta cheese
6 tbsp. rum
1/2 cup confectioners' sugar
2 (1 oz.) squares sweet chocolate, grated
1/4 cup candied cherries, chopped
1/2 tsp. ground cinnamon
1/2 cup chopped toasted almonds
1/4 cup butter
2 1/2 cups confectioners' sugar
2 egg whites
1 tsp. almond extract
1/4 cup rum
1/4 cup confectioners' sugar for dusting
Methods/steps
Preheat oven to 350 degrees.
To Make Pan di Spagna (Sponge Cake): Have the following ingredients at room temperature for at least one hour before baking; 6 eggs, lemon juice, orange zest, and sherry. Separate 6 eggs and set the egg whites aside. Beat egg yolks until thick and lemon colored. Beat in sugar, lemon juice, orange zest, and sherry or 1 tsp. almond extract. Beat until foamy. Sift flour 3 times and fold into eggs yolks gently but thoroughly. Beat egg whites until foamy, add salt, and beat until stiff but not dry. Fold into yolks. Pour batter into one ungreased 9-inch springform pan. Bake at 350 degrees for 50 to 60 minutes. Test by pressing lightly with fingertip, if cake springs back at once it is done. Leave cake in pan to cool, and invert on a wire rack. Once cake is completely cool slice into 3 layers and sprinkle layers with rum.
To Make Filling: Crush ricotta very finely with hands or a potato masher, add 1/2-cup confectioner's sugar and beat for about 3 minutes until creamy. Stir in 6 tbsp. rum, grated sweet chocolate, chopped candied cherries, cinnamon and toasted almonds. Spread ricotta filling over sponge cake layers, using half-inch of filling on each layer. Leave the top and sides of cake plain.
To Make Frosting: Cream butter with 1 cup sifted confectioners' sugar. Beat the 2 egg whites until stiff and gradually beat into the egg whites the remaining 1 1/2 cups confectioners' sugar. Fold egg whites into the butter mixture and add fold in 1 tsp. almond extract. Cover sides and top cake evenly with frosting. Store in refrigerator until ready to serve.
Additional Tips
1 9-inch cake